HR Managers /Administrators
Job ad valid till: 2016.12.31
Job description
Algoos Study work and travel is looking to hire as soon as possible 1 Professional as HR Managers and Administrators with Excellent English and Russian to work in our company as Human Resources Recruiters.Our company in just7 years became the biggest Agency placing more than 600 people every summer with offices in Lithuania, Greece, Slovakia, Poland.If you enjoy working with people and you are a good in Public Relations having as a quality your communication tactics, you like travelling then this is the right job for you. The person in Lithuania is responsible for LAtvia, Estonia and Lithuania only. All succesful candidates will start their job as soon as possible with adminsitration duties, prepare for the recruiting year and perform presentations all over europe, help students and universities with paperwork come in close contact with university directors and coordinators, interview students , check their applications and choose the best to spend their summer in Greece or Cyprus or anywhere else aorund the world. Salary depends on your language skills and mostly your experience in our field.As a company we cooperate with 360 universities and 28 countries. Only serious applicants please.
Requirements
Sales skills
Professional Look
Intelligent
Energetic
Positive
Pleasant
Serious
Having a working abroad experience is a plus
English
Russian
Polish
We offer
Salary plus bonus and all expenses for travelling Paid.
Salary
400–600 Eur taxes excluded
Depends on results
Prospect of increasing

Siųsti savo CV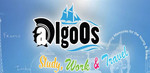 UAB "RhodesNow"
Algoos Study work and travel vysto verslo idėjas Rodo saloje (Graikijoje), plečiant paslaugų ir aptarnavimo sferą pačioje saloje ir interneto erdvėje. Mūsų kompanija siūlo investavimo, įdarbinimo, kelionių organizavimo, produkcijos tiekimo paslaugas.
Visi UAB "RhodesNow" darbo skelbimai