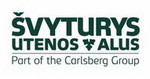 Daugiau apie įmonę »
Business Analyst
1600-2645
eur/mon.
Gross salary
Vilnius
- UAB "ŠVYTURYS-UTENOS ALUS"
YOUR RESPONSIBILITIES:
Conduct various commercial analysis (sales & market; financial; portfolio; customer; market execution & other);

Be the key person to support sales & marketing teams with insights for pricing and promotion in Baltic countries;

Convert insights to concrete business decisions, work closely with Sales and Marketing team managers in developing strategies;

Present insights to Sales Managers and/or Board of directors;

Create needed tools to help Sales team in everyday promo planning;

Stay up to date on the latest technical/methodology advancements;

Actively participate in Value Management initiatives;

Take part in Business development projects.
MAIN REQUIREMENTS:
Excellent knowledge of MS Office (Excel, PowerPoint, PowerQuery, PowerPivot);

At least 3 year experience in commercial analytics with proven high impact insights;

High technical capability (very high level of excel knowledge), knowledge of more advanced analysis related tools (R statistical package, PowerBI, others) will be considered as strong advantage;

Ability to work with stakeholders and work closely with them to determine acceptable solutions;

High presentation skills, ability to communicate insights in a simple language;

University degree (Business Management, Economics; degree in Econometrics/Statistics will be considered as advantage);

Fluency in English language (both written and verbal);

Analytical and critical thinking, ability and willingness to see big picture;

Can-do attitude, persistence and self-motivation.
Salary
1600-2645 eur/mon. gross salary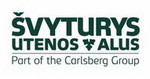 UAB "ŠVYTURYS-UTENOS ALUS"
As one of the leading breweries in Lithuania, "Švyturys-Utenos alus" can offer you an exciting career with outstanding individual growth opportunities. Working in the major league of global beer brands, you will be faced with many professional challenges allowing you to grow in your career. All it takes is your commitment and courage to face challenges head-on – and a passion for winning!