DATA SCIENTIST AND ANALYST
Job description:
As an IT Advisory Consultant in DIGITAL, you will be a part of the leading local and international teams on exciting DIGITAL related projects to drive business growth, innovate digital solutions and services and make them work unprecedented in any other country of the world.

You will engage with clients in various industries throughout the entire DIGITAL journey: from developing IT strategies, redefining IT governance, to connecting IT offerings with business needs, reshaping their enterprise and IT/IS architectures and implementing their IT/IS solutions.
What we expect from you is:
Drive on DIGITAL services, IT & Cloud services or IT governance;
Curiosity and keeping up with newest Hi-Tech and disruptive technologies;
Motivation and willingness to grow as an expert in IT advisory professional services;
Proper mix of strong communication and interpersonal skills as well as analytical and critical thinking skills;
University degree or being last year student in IT-related area;
Excellent spoken and written Lithuanian and English;
Willingness to travel.
What we offer to you is:
Work in bright, friendly and energetic international teams;
Journey through unprecedented engagements in DIGITAL;
Participation in international (not limited to EU) projects and teamwork with our leaders and industry leading client people Faster than ever growth of your personal and professional skills;
Boost the potential of your core IT knowledge and skills by working on a large scale and challenging projects with some of the most well-known companies and trending technologies;
Realize your professional life for practically making a better working world.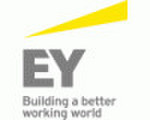 UAB "ERNST & YOUNG BALTIC"
Locally, we are committed to doing our part in building a better working world for our people, for our clients and for our communities.

Globally, we are also united by our shared values, which inspire our people worldwide and guide them to do the right thing, and our commitment to quality, which is embedded in who we are and everything we do.

We are the leader in professional services in the Baltic States. Our goal is to be a part of the development of our clients and the countries we work in.
Company's average salary is
1488€
83% higher than LT average
SoDra's August data (salary before taxes)