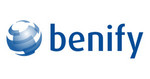 Daugiau apie įmonę »
Darbo pobūdis
As a Global Project Manager at Benify you will have full responsibility for assigned global clients and projects. You will be working at the interface between product and project management. In doing so, you will maintain a proactive cooperation between the Sales, HR, IT, and Marketing departments as well as with clients and suppliers. In more detail you will be:
Responsible for planning, organizing, tracking and managing project milestones for a global project roll-out.

Successfully formulate an overall global project plan, in consultation with parties concerned; specifies the resources to be used and the anticipated hours and costs.

Initiate, coordinate and develop the product together with cross functional team members. Implementation of existing and new modules & functionalities in the Benify platform.

Identify and execute cross-country process improvement projects, thus supporting the goal of Perfect Delivery through increased: Quality, Flexibility and Efficiency.

Successfully led cross functional teams, with a proven ability to motivate and lead a team to deliver against defined milestones.

Having Key Account Management responsibilities in order to secure and improve strategic relationships with existing clients.

Taking into consideration client's needs and feedback in order to develop a deeper understanding of the market potential and thereby contributing to development of the Benify product.
Reikalavimai
We are looking for a performance-oriented, innovative and self-motivated team player to join our Global Project Management team. You will need to be able to build strong relationships and use your influence to achieve goals and excellent results in a fast-paced, multinational environment. At Benify, we work hard but at the same time having lots of fun. That's because we only employ people who we really like!
You have successfully obtained your bachelor or master degree in economics, marketing, engineering, communications, or a comparable field of study.

You have 1-5 years of relevant job experience in the field of project management and/or product development or have gained insight into the everyday work of a startup business and/or have worked within high paced management consultancy firms

Willingness to travel as needed. As a global project manager it will be a necessity to travel to both our global clients and to our local offices.

Able to take ownership and drive for success.

You are a communicative team player, socially outgoing and possess a structured and reliable work ethic

You have high professional written and spoken language proficiency in English.

You are client oriented and are excellent at dealing with complicated client requirements.

You have a great liking for all matters IT and are interested in technical topics.

Ideally, you have knowledge within the fields of HR and/or Compensation/Benefits/discounts or in legal or tax topics.
Mes jums siūlome
The chance to work in a fast paced, innovative and international environment, dealing with all kind of different countries and cultures.

Be a part of Benifys' global expansive journey, that will exceed client expectations and change the existing and future market.

Competitive salary and great benefits

Work-life balance

Talented colleagues and a lot of fun activities

APPLICATION
If this is you, we are looking forward to receiving your complete application (Cover Letter, CV and certificates) in English.
PRACTIAL DETAILS
Start: According to agreement
Extent: Permanent full-time position at Benify
Location: Vilnius
Contact: Josefine Söderqvist (HR)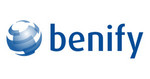 AB "Benify"
Benify has been successful for over ten years thanks to a great product and great people. Currently we are employing over 350 people and offering cloud based portal solutions for enterprises and their employees. Benify is foremost focused on Compensation & Benefits, Performance & Talent Management, and Employee Communication. We offer a large product portfolio within the above areas in order to make employers more attractive to current and future employees.