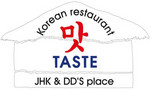 UAB "Korėjietiškas skonis" siūlo darbą:
UAB "Korėjietiškas skonis"
At TASTE we focus on you as a guest from you enter the restaurant till you leave. JHK & DD and all who work at our restaurant want all guests leaving the restaurant with a smile on their face after a good dinner, small meal or just a cup of coffee. We really care of how every single guest spend their time in our restaurant – our slogan is GOOD FOOD & A JOYFUL TIME! This in deep respect of the valuable time and money you spend as our guest.

Based on outstanding raw ingredients, a variety of dishes and a cozy including atmosphere, TASTE will take you through a journey of Korean feast dishes. There are not many cuisine's in the world were you will find the same commitment of using basic good raw materials as in the Koreans kitchen and it is combined with long traditions of excellent service. We will make sure you have a unique visit at TASTE.