Job description
Kaunas office at your convenience.

Adapt is a dynamic workplace where you'll be working with some of the best colleagues in the industry and given the opportunity to expand your skill set. Conversely, we expect you to contribute with your experience and knowledge. Adapt Lithuania offices are located in Kaunas and Vilnius.

Adapt is looking QA automation engineer to lead collaboration efforts across multiple teams

Your responsibilities will entail

Quality assurance and Quality Control for large-scale, eCommerce web applications, tools.

Support continuous integration, process improvement and innovation

Write test plans, test strategy and test cases (automated)
Identify opportunities for improved software development lifecycle

Troubleshoot critical defects in software coding

Work closely with the Developers and Engineers to achieve a high level of code coverage

Assists in providing guidance

Socialize and Collaborate testing efforts with peers
Requirements
At least two (2) years of proven experience in QA field

Strong understanding of software development life cycle

Experience testing software at API and webservice level

Experience in Cloud technologies like AWS, Docker, Chef

Experience with CI tools like Jenkins

Experience with both manual and automated testing including experience with Selenium.

decent skills SQL is a must

Experience creating XML request/response documents from specifications is a plus.

experience with Cucumber, Junit, Jmeter is a plus

A high level of spoken and written English.
We offer
Adapt is a workplace dedicated to producing web solutions of the highest standard. Our team of talented and dedicated colleagues have created an informal and good-humored culture driven by getting results through innovative solutions.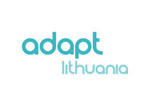 UAB "Adapt LT"
Adapt is a dynamic workplace where you'll be working with some of the best colleagues in the industry and given the opportunity to expand your skill set. Conversely, we expect you to contribute with your experience and knowledge. Adapt Lithuania offices are located in Kaunas and Vilnius.
Company's average salary is
1491€
84% higher than LT average
SoDra's August data (salary before taxes)