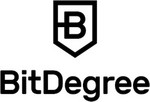 Sales Development Representative
Atranka internetu
Job Description:
If you're an amazing communicator who has excellent interpersonal and customer service skills with a proven ability to meet deadlines, it's a sign you're in the right place. BitDegree is looking for a Sales Development Representative to work with our LMS solution - promote our powerful solution, onboard new clients and change how SMEs are teaching their employees.
WHAT YOU WILL DO
Qualify leads and run outreach campaigns through different channels.

Create relationships with customers to identify their needs, interests and viability to drive sales.

Schedule and run product demos to customers.

Hold intelligent and engaging conversations over the phone and email with our customers.

Perform regular follow-up calls and emails and manage communication with incoming leads.

Use sales outreach tools, data-driven approach and experimentation mindset to constantly improve the sales process.

Collaborate with the team to ensure the company's goals and targets are met.

Work closely with product team to ensure the requests and arising technical issues are solved in a timely matter.
What we expect:
Strong communication, interpersonal, teamwork, and customer service skills

Fluency in English

Capability of understanding customer pain points and requirements.

Ability to translate technical issues to everyday user language and empathy towards client's needs and struggles.

Resilience and laser focus on reaching goals and key deliverables.

You are a self-starter able to act without being told what to do and communicate new ideas.

Eagerness to learn.

Experience working in a startup environment, using CRM and Sales tools is a plus.
What's in it for you:
Exciting fast-paced environment.

A purpose-driven product and market to work with. Education is where you can make a long lasting impact!

Reasonable compensation package.

Modern and cosy office space in Vilnius.

The culture of the freedom and the responsibility to think of solutions.

An awesome international team to work with and the chance to bring our exciting technologies to the market.

More open BitDegree job positions are here:
Web Development Course Support

-
Junior Marketing Specialist

-
-
Salary
800-1500 eur/mon. net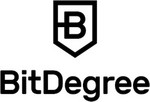 UAB "BitDegree"
BitDegree is an online educational platform that focuses on teaching digital skills. BitDegree uses blockchain technology to record educational achievements and enable anyone to issue cryptocurrency based scholarships to the learners.
information about UAB "BitDegree"
2670 €
Avg. salary gross
(75% higher than LT average)
1-2 mln. €
Revenue 2019 y.
Distribution of employees by salary (before taxes):
25% earn up to 1262 €
25% earn 1262-1945 €
25% earn 1945-2949 €
25% earn more than 2949 €