RESPONSIBILITIES
As a member of Devbridge, you will work on some of the most complex challenges in software design and development. You'll be part of select team that engages with enterprise leaders, building innovative digital products.

Our clients want to leverage outstanding User Experience for building custom software used by thousands, if not millions, of users. No two projects we work on are similar, and none of them are small or simple. We leverage Dual-track Scrum for managing our projects. We take ownership, have fun, seek mastery, embrace transparency and deliver results. Your work will ship to market, make an impact, and evolve.

We've won numerous awards for our work and culture, having established ourselves across three international offices.

Currently we are looking for Senior Test Engineer.


KEY RESPONSIBILITIES:
• Ownership and driving of a testing process within a development team following Agile methodology;
• Build relationships, collaborate with and influence cross-functional teams within your area of expertise;
• Define scope of testing, define testing strategy, and select proper testing method and technique to ensure maximum testing coverage;
• Collaborate with customers' test engineers;
• Mentor, educate, and supervise junior test engineers;
• Contribute to requirements engineering process;
• Drive constant improvement of software testing process within a team and contribute to improvements in development process;
• Share the know-hows with other teams and co-workers test engineers.
DESIRED EXPERIENCE AND SKILLS
• 5+ years experience in Software Testing;
• Experience with exploratory testing, not just working to test plans;
• Experience testing multi-tier web-based applications;
• Understanding of full software development life cycle right from the requirements gathering to delivery and support;
• Awareness of test automation and ability to spot points of value in the process;
• Feel comfortable working closely with developers, project managers and clients in a highly collaborative environment;
• A knowledge of testing within an Agile development environment;
• Passion for testing;
• Fluent in Lithuanian and English.

EDUCATION REQUIREMENTS:
• Bachelor's degree in Computer Science, Math or similar.
BENEFITS
• A development focused international company with variety of challenging and compelling projects;
• Opportunity to grow in informal style of communication and management environment that is constantly looking for great team players and leaders to take;
• A chance to work with the top talent professionals and award winning teams;
• Option to work in Chicago office for one month per year;
• Participation in professional improvement seminars;
• Competitive salary and performance based bonuses;
• Gym benefit;
• Team building events, Friday lunches;
• Employee referral program.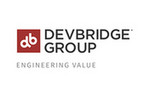 Devbridge Group
Devbridge Group is an international software design and development company that builds comprehensive, custom solutions for enterprise mobile and web. We combine our engineering expertise with our elegant design aesthetic to deliver exceptional results for category leaders in manufacturing, healthcare, financial services, and retail.

Devbridge Group produces more than 140,000 engineering hours annually building custom cloudbased and mobile solutions for midmarket and Fortune clients. Our longterm partnerships are built on trust and transparency. We follow a streamlined agile process, are committed to Responsive Design, and always pursue excellence in what we do.
Company's average salary is
2311€
2.5X higher than LT average
SoDra's July data (salary before taxes)