Job description
Kaunas office at your convenience.

Adapt is a dynamic workplace where you'll be working with some of the best colleagues in the industry and given the opportunity to expand your skill set. Conversely, we expect you to contribute with your experience and knowledge. Adapt Lithuania offices are located in Kaunas and Vilnius.

Your role will be to present your work, in a form of sketches, wireframes, final designs, and articulate your design decisions to the development team, product team, and executives for review and feedback.

Your daily work activities would include
Creating sketches, wireframes, storyboards, user flows, style-guides as needed to communicate interaction and design ideas effectively, facilitate the work and support for frontend developers

Creating graphical assets to assist business & marketing areas

Articulating the various principles of responsive and adaptive design
Requirements
2-3 years of end to end design lifecycle experience including understanding web design requirements through wire framing and prototyping, and final design

Experience with any of the following technologies/tools is a plus – HTML5, CSS3, LESS, SASS, Git

A portfolio of well-designed, user-centered projects

A high level of spoken and written English.
We offer
Adapt is a workplace dedicated to producing web solutions of the highest standard. Our team of talented and dedicated colleagues have created an informal and good-humored culture driven by getting results through innovative solutions.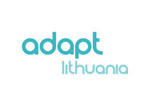 UAB "Adapt LT"
Adapt is a dynamic workplace where you'll be working with some of the best colleagues in the industry and given the opportunity to expand your skill set. Conversely, we expect you to contribute with your experience and knowledge. Adapt Lithuania offices are located in Kaunas and Vilnius.
Company's average salary is
1491€
84% higher than LT average
SoDra's August data (salary before taxes)