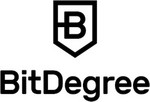 Web Development Course Support
Atranka internetu
Job Description:
BitDegree is building the future of online education. We are looking for a knowledge-hungry person with great communication skills to join the Content Production team and help us craft the ultimate online learning experience.
This is a paid full-time support role, where it doesn't matter whether you are just starting your web development career or already have some experience and knowledge up your sleeves. We're offering an opportunity for you to learn from our latest in-house web development course and help us guide our students through their personal learning journeys.
What will you do:
Review web development courses & assist fellow learners to overcome their learning challenges.

Complete web development lessons, quizzes, assignments and be ready to share your know-how.

Use a bug tracking system to re-test fixed bugs, or submit newly discovered issues.

Collaborate with our team in crafting the ultimate student experience.

Take part in our Networking and Community-building activities.
What we expect:
You have a positive mindset and excellent attention to detail

You are creative, innovative, and team-oriented

You motivate yourself to perform at an excellent level and are always thinking of ways to improve

You have native or as good as native English language skills

You are a knowledge-hungry person, always excited to learn and share it with people around you.
What's in it for you:
The culture of truly high standards and a fast-paced learning environment

Amazing team - both professionally and personally

Freedom and the responsibility to think of solutions, not just do what you are told

Career opportunity to secure a long term Web developer or QA position

Access extensive web development learning experience with 1-1 mentor

More open BitDegree job positions are here:
-
Junior Marketing Specialist

-
Sales Development Representative

-
Salary
From 700 €/mon. gross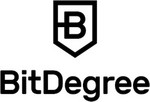 UAB "BitDegree"
BitDegree is an online educational platform that focuses on teaching digital skills. BitDegree uses blockchain technology to record educational achievements and enable anyone to issue cryptocurrency based scholarships to the learners.
information about UAB "BitDegree"
2620 €
Avg. salary gross
(72% higher than LT average)
3-5 mln. €
Revenue 2020 y.
Distribution of employees by salary (before taxes):
25% earn up to 1157 €
25% earn 1157-2051 €
25% earn 2051-3282 €
25% earn more than 3282 €