Wolf Pack - Telesales B2B/Telemarketingo specialistas
Job description
Looking for Junior staff and Experienced. Part time / full time / work in office or work from home

Have you got bags of charisma that always win people round in an argument? Do you always manage to get yourself out of trouble using your charm alone?
If you've got the gift of the gab and could sell ice to the Eskimos, then a career in telesales is calling you, so better pick up the phone.

"Iron Wolf Calling" is a Young energetic company who are looking to recruit a new wolf to take the company further.

We work with lots of different customers from Training Schools to Printers, Beauty and hair products to selling conference places. Only B2B
What we expect from you
Work experience requirements:

Business know how, customer interaction, preferably retail or telemarketing of any kind. or just lots and lots of enthusiasm

Education Requirements:

Excellent English is essential, other languages are a bonus.

Character requirements:

We are looking for ambitious, keen self-starters who are looking to build a career and to learn the job first-hand. You need to be adaptable, to learn new brands and techniques quickly, to be consistent, polite and to be open to ideas. You like people; you're a good listener, and you will want to learn from experts.
You will need to be a good team player – to share ideas and best practice. You get on well with people and have an opinion.
We offer
We offer a great opportunity to work within international company with UK clients. This is a role where the best will grow. You will not be stuck in a dull call center just making up the numbers. This is fun and the more success you and IWC enjoy, the more fun it gets.
There is opportunity for you to develop into a senior sales consultant, a trainer or junior manager.
Salary
350–1000 Eur taxes excluded
Negotiable
Prospect of increasing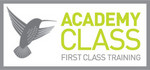 Academy class
At Academy Class we offer specialist software training aimed at keeping creatives creative through hands-on, interactive, project-oriented classes. Class sizes are kept small, usually less than 10 students, and ongoing support is provided.

We offer industry approved courses in new media, web design, design and print photography, social media, video editing and computer-aided design (CAD) and we are the only UK training partner to be authorised by Adobe, Apple, Autodesk and Quark.

We have training suites across the UK - London, Manchester, Glasgow, Cardiff, Edinburgh and Leeds, and we can also offer on-site training in your workplace if required.