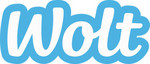 UAB "Wolt LT" siūlo darbą:
UAB "Wolt LT"
Wolt is an Apple-awarded technology company building the one app for discovering and getting great food in your city. Choose a restaurant, build your order and hit send. Follow your order's progress by the minute and have your meal delivered to your home or your office, or pick it up yourself.

Wolt is active in 16 countries and more than 50 cities today, servicing 2.5M+ customers. We've raised more than €150M in financing from renowned U.S. and European based investors such as ICONIQ Capital, 83North, EQT Ventures and Highland Europe. Before Wolt, our investors have backed companies such as Alibaba, Netflix, Just Eat, Adyen, iZettle, Intercom and Zoom.

We've also been fortunate enough to receive some appreciation and recognition for our hard work along the way. Apple gave us their Editors' Choice, Wired named us one of the "Hottest Startups in Europe," Forbes included our CEO Miki Kuusi on its list of 30-under-30 in Consumer Tech, and the Nordic Startup Awards named us Company of the Year.

We are now expanding further – and need your help. If you are passionate about cutting-edge technology, great food and making an impact in your city, then Wolt just might be for you.